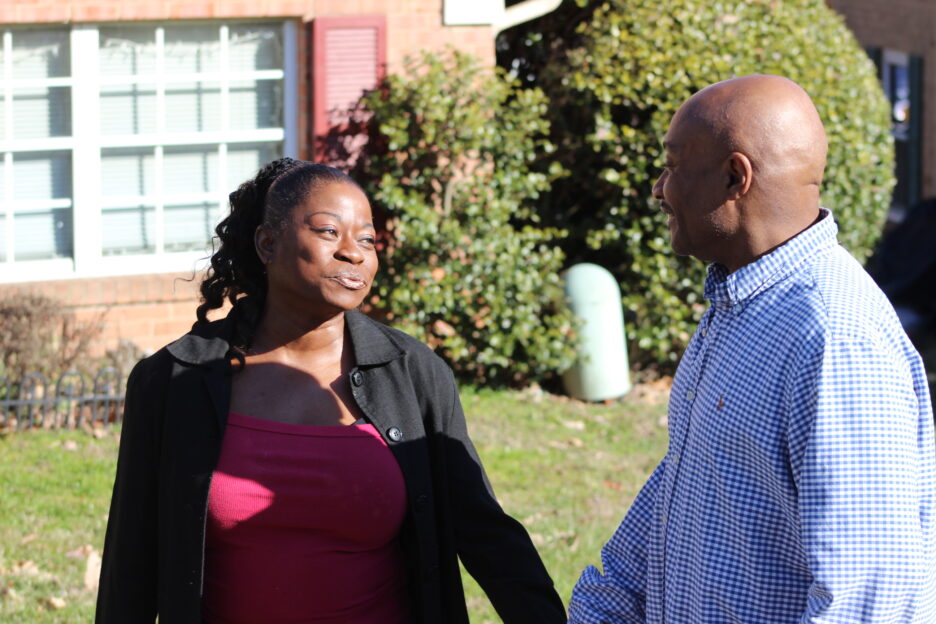 "You're everything I've wanted in a man."
Charles couldn't believe it when his fiancée told him this – how could he expect anyone to ever tell him that after they learned about his past? But Sabrina did, and he uses those words to remind himself every day to be a better man.
Their stories started out similarly but diverged when they became adults.
Charles grew up in DC.                                    Sabrina is from San Francisco.
Charles left home at 14.                                    Sabrina ran away at age 10.
Charles's neighborhood was full of drugs and he ended up selling them.
Sabrina's mom got addicted to drugs when she was a kid.
Charles was sentenced to Lorton prison when he was 21, and cycled in and out of prison for the next 30 years. When we turned 50, he vowed never to end up in that situation again. He walked out of jail for the last time in 2016 at the age of 52.
Sabrina's dad was arrested when she was a teen. But she got lucky – her grandmother took in Sabrina and her 7 siblings. Sabrina later earned her GED, went to trade school, and got jobs in marketing. She eventually relocated to the DC area to continue this career.
They met at Shake Shack in 2016. Charles was behind the cash register in his first job since getting out of jail. He was ready for to start over and grateful that Shake Shack hired him.
One day, Sabrina came in. She was working for the marketing team at California Pizza Kitchen and wanted to talk to the manager about cross-promotional activities. Charlies thought she was beautiful and just loved her confidence. It turned out he was staring a little – a customer had to get his attention so he could finish paying for his order!
Charles suddenly discovered a love for pizza he had never had before! He soon visited CPK multiple times the next couple weeks working up the nerve to ask her out! After a few months of dating, he moved to her apartment because they really cared for each other and this would help make ends meet. And as Sabrina put it, "he wanted to visit most nights anyway!
The next few months, they still struggled financially. Sabrina had been behind on bills and they could not get ahead paying the rent and high transportation costs. After months of stress, Charles suggested that they needed to find a way to start over and get help. He proposed that they leave their apartment and go to a shelter before they actually got evicted. Sabrina was terrified and resisted that idea. But she trusted him. In October 2017, Charles went to New Hope Housing's Eleanor Kennedy Shelter while Sabrina went to a women's shelter in Alexandria. It was at Kennedy Shelter that Charles met Rosa, the housing case manager.
"Rosa gave me hope. She saw what I wanted and pushed and encouraged me to get there. She showed me ways to accomplish my goals. There's a sense of genuineness with her. She saw the fire in my eyes to push forward."
Rosa said of Charles, "I saw in Charles that he was really ready to move on with his life. He wasn't only advocating for himself. He was advocating for Sabrina."
While at the shelter, he got a new job working at a warehouse in Lorton, not far from the shelter. Less than 7 weeks after arriving at the shelter, he and Sabrina moved to a townhouse in Lorton on December 1, 2017. They have been there since. Rosa knew the landlord very well. A retired Navy veteran, he owns several properties and likes to give people second chances. Rosa has placed several formerly homeless adults in his homes.
Charles has been saving up for a ring and can't wait to get married. He got promoted at the warehouse last Fall and is saving money as fast as he can. His commute is now just a few minutes and walking distance if he wants. Their house is only a short distance from what used to be Lorton Prison. It's a regular reminder for him just how far he has come.
_____________________________________________________________________________
Charles and Sabrina were going to be at our Spring Fundraiser on March 14th to share their story live. However, we had to cancel as our country began to face the effects of the coronavirus. We're sad that we couldn't celebrate with them in person, but we are happy to share a video of them telling their story with you.
New Hope Housing - Charles & Sabrina