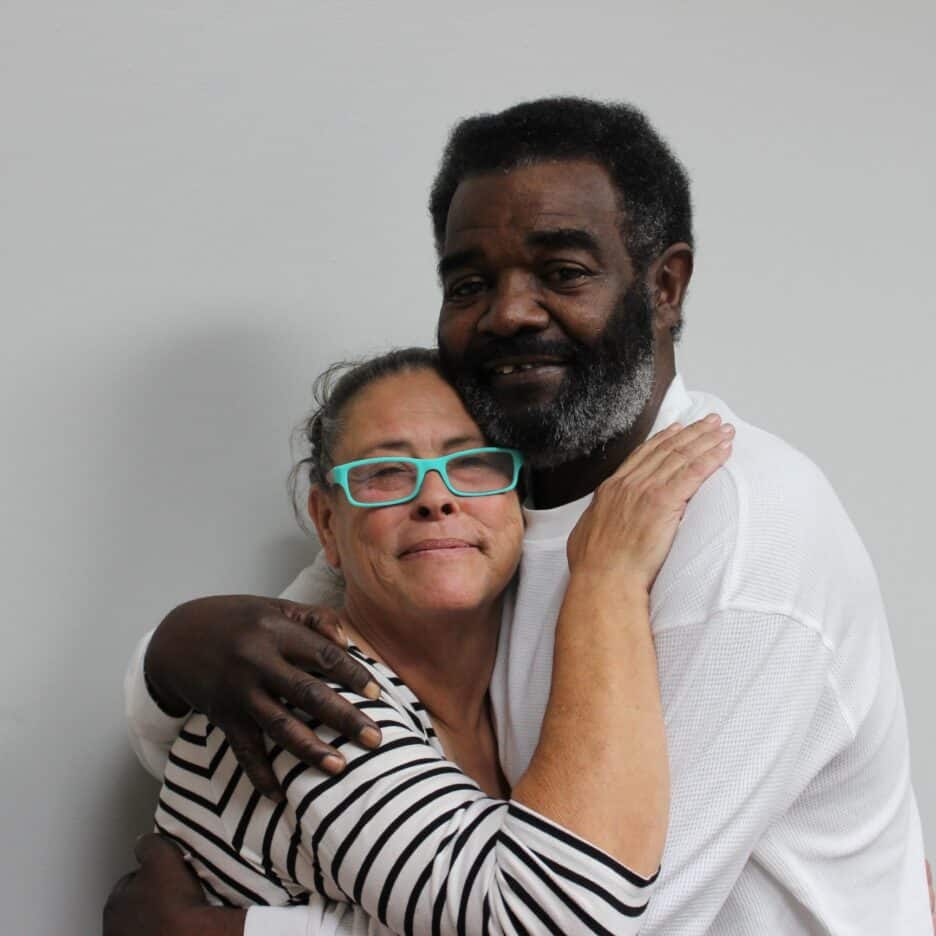 Dawn and Ed have been together for 15 years and can't imagine being apart for even one day. When they first sought shelter, they learned they didn't qualify as a family because they don't have children with them. A bed for a woman was open, but none for men at the time. Separate or stay together? Each day of homelessness is filled with hard choices, but this wasn't one. They have taken each step of this hard journey together.
Dawn and Ed are very different people, and had lived very different lives from each other. But when they finally met at ages 39 and 45, they started chatting about their love of music, and felt an unexpected comfort with each other that led to deeper conversation.
It had started with coffee. In 2008, Dawn was working heavy equipment on the Huntington Metro construction site. When she got reassigned to gate-guarding duty on a cold November day, Ed (who had seen her around ) showed up with a thermos and two cups, asking "Can I share a cup of coffee with you? And maybe just get to know you?" And that was that.
Life has never been very easy for them, but the life they made for themselves was good for a while. They had a nice little place at Washington Square Apartments in Alexandria. They had pretty good jobs and had a good life.
Then in 2010, Ed got sick. He was diagnosed with congestive heart failure. His health went downhill fast. Dawn was worried that Ed would die. She couldn't take care of him and their bills by herself, and they soon lost their apartment. They did what many do in this situation and turned to family. Dawn's mother was in Norfolk, and was in need of some help, too. And housing was cheaper there. So they relocated and restarted their lives.
Norfolk had some quality moments. (Ask Ed about the time he cooked for Tom Hanks when Ed was the chef at Charlie's Cafe!) But they were mostly scraping by. In 2022, they came back to Alexandria to be with Ed's family. Several of his family members had passed away including his father, uncle, and two aunts. They stayed with his sister for a few weeks, but had to leave with no specific place to go.
Dawn and Ed had just gotten to the Rising Hope Hypothermia Program when more tragedy struck. Dawn learned her daughter and granddaughter were killed in Hampton. After that, Dawn couldn't stay at the shelter and be around so many people. She was dealing with PTSD and needed space.
She had gotten a job at a hotel nearby and the manager allowed them to stay in a room temporarily. When management changed, the hotel went from okay to terrible. Dawn was doing all the housekeeping and laundry in a place that became increasingly filthy and dangerous. They were faced with yet another difficult choice: quit and lose the space they had, or live in filth?
When they left the filthy hotel, they sought out shelter services in Fairfax County and learned that at the time, there was only shelter space for her.
"I can't be without him. He is what keeps me strong. For 15 years, we've been together. He knows how to handle my post-traumatic stress disorder. And I take care of him. So, I'm safe. And vice versa."
Even though they aren't staying at the shelter, they are still able to access services. The employment case manager, Kelsey, got to work with them right away. But tough choices remained.
"Where do we sleep tonight?" That's a question that most of us don't have to ask every day. Dawn and Ed have a 20-year-old Ford F-150 with a covered truck bed. When it's nice out, they pop a tent in the back. When it's raining, they put the seats down and sleep inside. Each night they try to find a place to park the truck where they won't get harassed and also won't be considered a nuisance to a business or family.
In early September, the average temperature spiked to 97 degrees and they had to spend $500 of their hard- earned money at a hotel. Several other rooms at this hotel also had individuals and families currently homeless, including a family with three kids next door. One day, Dawn had picked up some extra sandwiches at Kennedy Shelter for her and Ed, but chose to give them to the family so they would have dinner.
They accept help, but don't want handouts. They are very willing to work hard. Within a week of meeting with staff at Kennedy Shelter, Dawn and Ed were both on the Operation Stream Shield team twice a week. Dawn began working at Goodwill as a Sales Associate in July and Ed was soon a kitchen manager at the South County Recovery & Drop-In Center. They work nearly every day and are trying to save enough to have their own place.
Dawn and Ed dream of being in their own safe housing by Thanksgiving. They have both experienced hunger in their lives, but growing up, Thanksgiving was the day that no one went hungry and your bellies were filled with the best foods. They also want to give back and are always sharing job leads they get from Kelsey to people they meet, and telling people to visit the shelter for help!