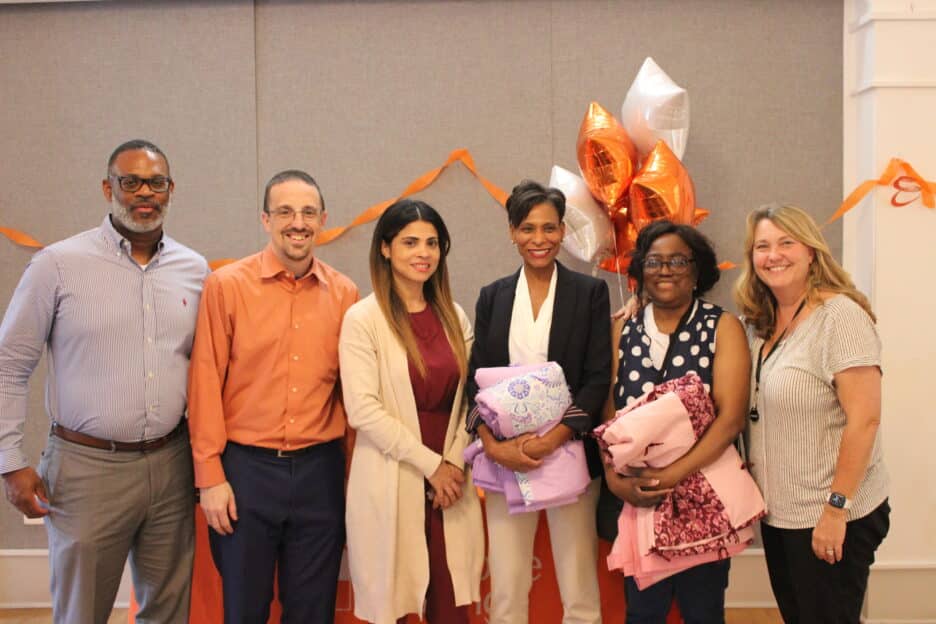 Friends, volunteers, and staff of New Hope Housing gathered on September 14th to recognize and thank volunteers for their service to the community.
New Hope Housing's new executive director, Ashley McSwain, opened the night with remarks thanking volunteers for their contributions stating that "volunteers are the lifeblood of nonprofits." Liza Feiler, Director of Community Engagement, distributed New Hope Housing keychains to volunteers describing them as the "symbol of a successful volunteer program, that when clients receive their keychains, our mission and their dreams are fulfilled."
Hilton Arlington National Landing was named Community Champion for representing the values of New Hope Housing in the community and for creating new opportunities to partner. For the past two years, Hilton NALA has been the event space for New Hope Housing's "Over The Edge" fundraising event at which over 100 supporters and donors rappel down the side of the Hilton. The two events have raised over $400,000 for New Hope Housing. Hilton has donated over $50,000 in in-kind services by donating rooms, event space, food and drink for VIP night, and more. Since partnering for this event, the staff at Hilton has also volunteered nearly every month at several New Hope Housing locations. They have helped clean up our streets through the Adopt-A-Highway program, provided home-cooked meals, and hosted an ice cream social.
Mr. Quenton Rodgers is a new volunteer for New Hope Housing and is willing to do whatever is needed of him! He has volunteered multiple times at our Max's Place group home, performance maintenance and cleaning the yard. He has hosted resume building workshops with the residents and recruited his wife and daughter, Colette and Paris, for additional help polishing the resumes. And Quenton has developed an eight-week Wellness curriculum that begins this month at Kennedy Shelter.
Mrs. Maanvi Patoir earned her yoga instructor certification during the pandemic and began hosting yoga classes at the RPC Shelter in Arlington in 2022. When she began, she had hoped to have a large regular class weekly. However, after one or two classes, not many residents were attending. But one person, Ms. Jessamin, did. Every week. They began talking before and after class and Maanvi learned more about Ms. Jessamin's struggles. Several strokes the previous year necessitated regular physical therapy and the yoga class with Maanvi provided needed exercise and personal connection. Maanvi's yoga classes were helpful in Ms. Jessamin's life at the shelter and continue to be now that she is in housing of her own. The quote "To the world you may be one person, but to one person, you may be the world" certainly applies to Maanvi. (More on Ms. Jessamin here: https://www.newhopehousing.org/2023/03/mywakeupcall/)
Mr. Ben Benita is the DC representative for Super Soul Party, a nonprofit that is dedicated to uniting communities and creating a safe space for people who are experiencing homelessness. They wish to facilitate moments of connection between people. Their most popular event focuses on the nation's largest unofficial holiday: the Superbowl! Ben and friends came to the RPC Shelter in Arlington and threw a Superbowl party for the guests that included a great meal, lots of snacks, goody bags, and many moments of connection between volunteers and residents. What was the score of the game? Who cares! Ben and his friends brought a great feeling of home to the shelter and all who currently live there.
Mrs. Jenny Roellke has been leading Alcoholics Anonymous/Narcotics Anonymous (AA/NA) meetings at RPC in Arlington for the past year. She knows that it can be difficult for people to choose to attend meetings so she always shows up early so that she can talk with residents before the meeting. She works to get to know folks and to gently encourage them to join the circle and share. Jenny has gotten to know several people outside the meetings so that they know they can reach out for additional help. If that weren't enough, she also bakes cookies every week! She is always rooting for everyone to succeed.
Mr. Brad Gillespie has been hosting a Men's Group at the Eleanor U. Kennedy Shelter for the past several months. Each week, several men gather to discuss topics important to them in a safe space. Brad had previously volunteered in a prison doing similar work and wanted to do this closer to home. There are usually about six men at each session, and three of them have been coming every week. The clients have shared how important it is to get things off their chests and get advice from their peers. The early success of this program has led the team at Kennedy Shelter to work on a Women's Group, too!
PAL (People. Animals. Love.) Many of us know in our own lives the importance and protective health effects of animal companionship. The founders of PAL knew that too and created an organization that would bring animals and animal companionship to people who lacked regular access. The local chapter of PAL has been visiting both the Bailey's Shelter and RPC shelter for the past 2 years. Every time they visit, many of the clients are overjoyed to sit and play with the dogs. For so many individuals, getting time to enjoy the friendly and patient animals is truly therapy. They are also currently working on a calendar to feature their partners, so be on the lookout for our glamour shots!
Name a volunteer activity at New Hope Housing, and volunteers from Summit Church have probably done it! For the past several years, members of the church and their youth ministry have been providing dinners, hosting bingo, and serving wherever needed. During the start of the pandemic, Summit Church volunteers made hundreds of bagged meals for several months to deliver to our COVID hotel shelter program. Just recently, they deep-cleaned the RPC Shelter. They are wonderful people, always willing to help out!
For more information on volunteering, please visit: https://www.newhopehousing.org/get-involved/volunteer/volunteer-application/