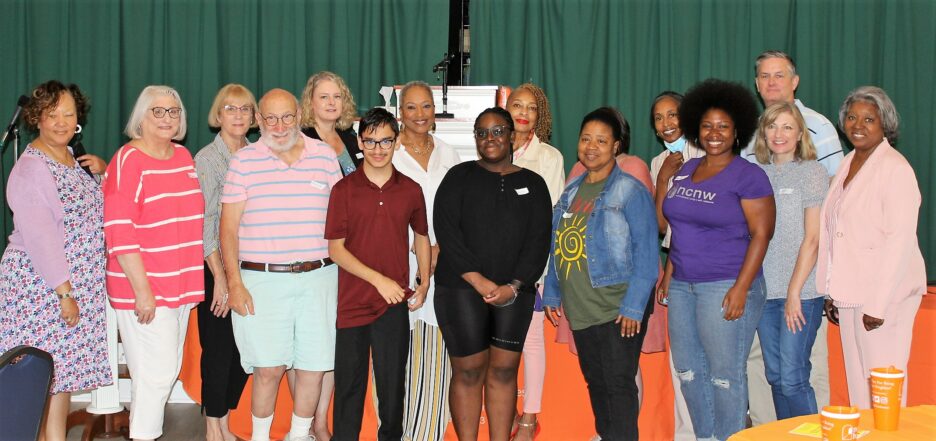 We were so pleased to be joined by volunteers and friends on Saturday, August 13, 2022,  at our Annual Volunteer Celebration to honor several individuals and groups for their service to their homeless neighbors. Ms. Sharon Holland, Manager of Community Engagement, kicked off the event with rousing cheers of thanks and appreciation.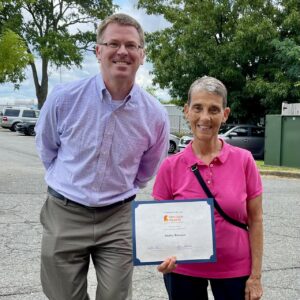 Our Volunteer of the Year for 2022 is Shelley Brosnan and she was not able to be at the ceremony as she was volunteering!  The 2nd Saturday of the month is her day to pack and deliver food for Food and Friends and she is as committed a volunteer as you can find. Shelley Brosnan has long volunteered with Volunteer Fairfax and other organizations. Prior to COVID, a retired Ms. Brosnan was volunteering seven days a week in Northern Virginia, often much more than 40 hours a week. When the pandemic began, her children told her she'd have to stop or slow down so as not to put herself at risk. Nevertheless, she found ways to serve.
Mrs. Brosnan had heard about NHH before through Volunteer Fairfax and had been involved through her church, Accotink Unitarian. When she learned about the bagged lunch program at New Hope Housing, she thought that would be a good contactless service project to get involved with. Since she began making meals 2 years ago, she has served at least 230 hours that we know about. She has helped make more than 2,000 lunches. These are always helpful, but were especially so during the earlier parts of the pandemic when we had many people in isolation and needed to get them food regularly. You can see her at the shelter every Friday, dropping off lunches and greeting guests. When we have emergencies or people dropping out of their regular service, Mrs. Brosnan has often jumped in to make sure no one goes hungry and we don't have to scramble to get dinner covered. One example of this is when a group had to cancel bringing a special dinner to our group home Max's Place a few days before Easter. She quickly jumped in and made up a wonderful spread. For her consistency, dedication, and cheerfulness, we're proud to call Shelley Brosnan our Jim Lund Volunteer of the Year.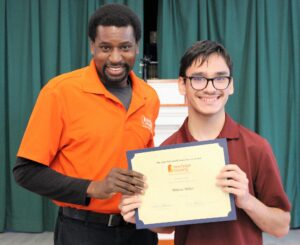 The Allie McConnell Youth Service Award is given to an Outstanding Youth Volunteer every year. This year, we are happy to award Mihran Miller. Mihran first volunteered with his mother, Joy, during the Thanksgiving holiday in 2020. In 2021, Mihran and Ms. Miller contacted Donald Richardson because Mihran needed to earn a Boy Scout merit badge and he wanted to do something to benefit his homeless neighbors. Mihran discussed ideas with shelter staff and decided to create a pamphlet that would list free and resources that are available in the Arlington area that would be beneficial to people with low incomes. Mihran created the pamphlet and now, RPC staff hand it out to residents leaving shelter for housing, and to clients who use the drop-in day program at RPC. With this creation, Mihran did receive his merit badge, and has helped many of our clients. We are proud to recognize Mihran Miller with our Allie McConnell Youth Service Award.
Mrs. Sandra Shelton was named an Outstanding Volunteer for her service at the RPC Shelter in Arlington. Mrs. Shelton first joined us in February 2021 with many talents that could benefit the residents of RPC. She first served as an employment volunteer, assisting our employment case manager and developing a rapport with every client she served. Mrs. Shelton also served as a Clothing Closet Manager, reorganizing the clothing closet to make it more accessible for residents and staff. (She also ensured that Donald kept it clean while she was away!) She cares very deeply for each client she serves. She often checks back in with clients even after their work has ended. When several residents graduated from a program designed for people leaving prison, Mrs. was there to attend the graduation. She has become a friend to the staff and residents of RPC, and it is our pleasure to recognize her as an Outstanding Volunteer.
Ms. Joy Miller joined New Hope Housing in 2020 and is one of RPC's most faithful bagged lunch volunteers. Ms. Miller is the type of volunteer who is always looking to do more. During the 2020 holiday season, she approached the RPC volunteer coordinator, Donald Richardson to ask what she could do to help celebrate Thanksgiving at the shelter. A volunteer group was already scheduled to bring a meal, so Ms. Miller rallied her neighborhood to donate and gather dessert! Together they brought many homemade pies and desserts (and decorations!) so the residents of RPC could have a Thanksgiving celebration. It was such a big hit that she did this in 2021 as well. Ms. Miller's work helped to brighten the holidays for everyone in shelter at RPC. We are glad she found us and proud to present her with the Outstanding New Hope Housing Volunteer Award.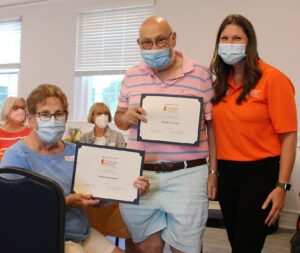 The new Community & Volunteer Coordinator at Bailey's Shelter, Michelle Hook, introduced and awarded George November & Nancy Cavanaugh as Outstanding Volunteers.  George and Nancy have been volunteering since March 2015, providing monthly meals ever since. They have served more than 230 hours in the last 4 years, making over 4,500 meals. They insist on everything being fresh and hot, so much so, that George created and built a special insulated cart to keep food hot or cold, stable and organized in their van. They fill in on short notice when other volunteers are unable to make meals and are always smiling for the guests. We're grateful for them – and their peach cobbler!
Madelyn Stoops is new to New Hope Housing, joining as a volunteer in March 2022, but already making a great impact. She has served as an RPC staff assistant providing such services as case manager assistant, serving meals, sorting donations, supporting front desk staff, and many other tasks needed by RPC. Madelyn has also helped out at community donation drives. RPC residents know her well and many greet her with a smile when she arrives onsite to serve. In her short time serving with us, Madelyn has gone above and beyond as a volunteer. We are so happy to have her serve with us and to recognize her as an Outstanding New Hope Housing volunteer.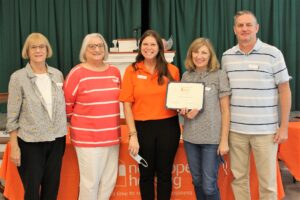 Providence Presbyterian Church was named an Outstanding Group Volunteer for their many years of service at Bailey's Shelter. Providence Presbyterian is very active in our community and has a long and faithful service volunteering for Bailey's Shelter and Supportive Housing for over 25 years, long before New Hope Housing took over the shelter in 2017. You can count on them being at Bailey's for dinner every 2nd Wednesday of the month. In just the last five years, the church has provided more than 256 hours of service which includes providing over 3, 600 hot meals to our guests. During hypothermia season, they also provide snack bags and bagged lunches to make sure people have enough to eat every day, throughout the day. It is no surprise that Providence Presbyterian Church is so active in the community with a leader like Mary Lee. Mary Lee was recently awarded Volunteer Fairfax Lifetime Achievement Award for her devoted and countless hours over the past 35 years. We're grateful to her and for everyone at Providence Presbyterian for all they do, and happy to name them an Outstanding Group Volunteer.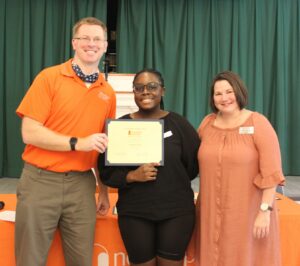 The Marymount University Saint's Center for Service was named an Outstanding Group Volunteer award for 2022 but could have been named in earlier years as well. The Saint's Center for Service is the community engagement organization on Marymount whose mission is to "place ourselves and our resources at the service of those who are most in need of justice, especially women and children, enabling the powerless, the deprived, the marginalized, the voiceless to work effectively for their own development and liberation."
The Saint's Center for Service has been a partner to New Hope Housing for at least 6 years – and though the people who volunteer change every year, their commitment is steadfast. Students have held campus-wide Welcome Home Kit drives, collecting large amounts of new home goods for clients moving from shelter to their new homes. Students have hosted bingo in person and virtually at the shelter. They have provided meals. We always appreciate engaging students in service, and helping them become even more involved in their community outside school grounds. We're grateful for this partnership and the staff at Marymount who encourage all of their students to participate. We are proud to call the Marymount Saints Outstanding Group Volunteers.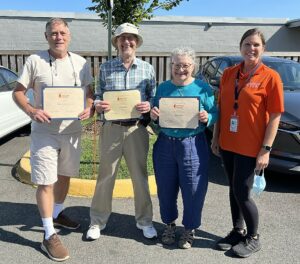 St. Katherine Greek Orthodox Church and Metropolitan DC Mission and Outreach Committee were awarded a joint Outstanding Group Volunteer award with Betty and John Slanta representing St. Katherine, and Antonia Chelpon and Susan Coronis standing in for Metropolitan DC Mission. These two groups have a long history with serving the community and Bailey's Shelter. Mrs. Slanta wanted the audience to know that the late Dr. John Demakis (who passed away in 2021 and was an Outstanding Volunteer in 2018) was the driving force behind this partnership.
St. Katherine Greek Orthodox Church and Metropolitan DC Mission and Outreach Committee members are committed to providing dinner the third Tuesday of every month to Bailey's. They make sure to prepare enough food for not only the shelter guests and supportive housing residents, but the staff as well. Since the beginning of the Covid pandemic, Father Costa has prepared most of the meals himself. In 2022, a member of St. Katherine, Mike Lambros, has been contributing monthly meals from his own restaurant – Georgio's – in Dumfries, VA. Along with the support from the church and committee, Mrs. Slanta is always asking how she can contribute. She and her family often purchase items that are needed. For example, earlier this spring, Mr. and Mrs. Slanta purchased two new rolling carts for the kitchen and had them delivered directly to Bailey's. St. Katherine and the outreach committee work together year-round to support Bailey's. In October the committee and church sponsor survival kits for our guests at the shelter. These kits consist of socks, hand warmers, hygiene essentials, and more. For all of their support, we thank them and congratulate them for being Outstanding Group Volunteers.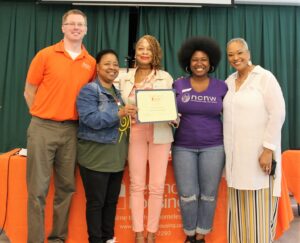 In 2017, New Hope Housing added the category "Community Champion" to this event to recognize a business partner or community group that not only volunteers and gives generously, but represents our values, and finds new ways to build even more partnerships and opportunities in the community. We are pleased to name this year's Community Champion – the Northern VA Section of the National Council of Negro Women. The Nova Section has served the community for more than 40 years and our relationship is at least a decade long. They have faithfully prepared and served meals at Bailey's Shelter every 3rd Saturday of the month and on MLK Jr. Day. A few years ago, they decided to something more and bigger for the shelter as part of the MLK Day of Service in order to involve more of their partners, too. The day would involve a coat drive, toiletry drive, meals, and more.
This past year, NCNW recruited: We Feed Our People, Project Hygiene; local chapters of Alpha Phi Alpha, Alpha Kappa Alpha, Delta Sigma Theta, Kappa Alpha Psi, Omega Psi Phi. They made enough hot food meals for Bailey's Shelter and the RPC shelter, and we brought extras to some of our housed clients. Over 200 new coats were collected. Hundreds of toiletries came in. Volunteers onsite were outside in the Bailey's parking lot with a fire pit to battle the 20 degree weather so they could greet others who were doing drive-by donation drop-offs. It was an amazing effort as it was in past years. My description does not do it justice. You just may have to join us out in the cold next year! For their work not only to serve the clients at Bailey's and other programs, but to help spread the word about New Hope Housing and recruit additional volunteers to the cause, we're happy to name the NOVA Section of NCNW as our Community Champions.
For more information on volunteering, please contact Sharon Holland at 703-799-2293 x 11 or sholland@newhopehousing.org