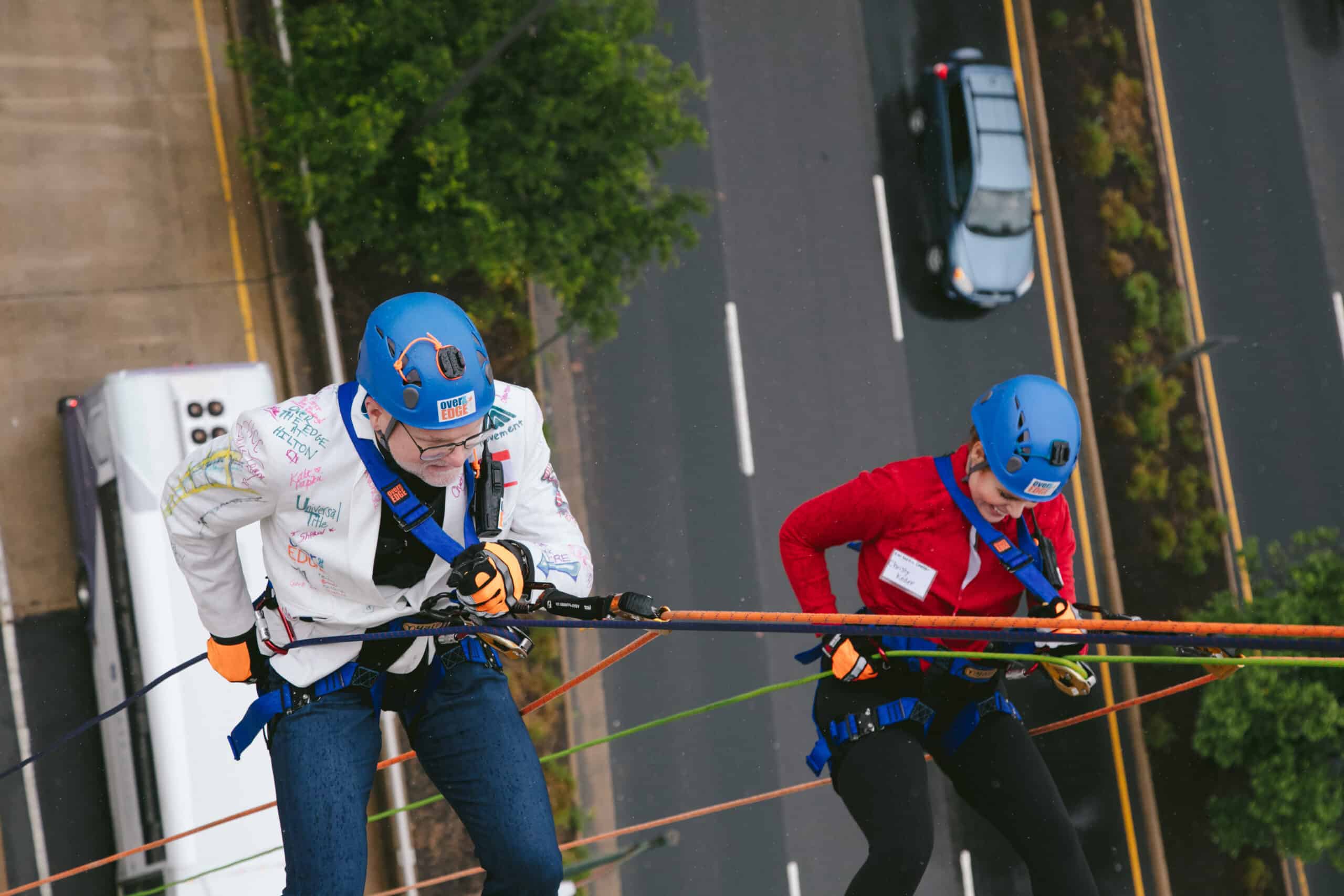 The rain slowed us down a little but did not stop more than 80 friends and supporters from going Over The Edge on May 6th! From 9a m to 5pm, we got to cheer everyone on from The Landing Zone as they descended 160 feet. Families, friends, faith communities, colleagues – all rappelling together and supporting each other – it was a fantastic day.
We all want to thank you again for your incredible efforts to help New Hope Housing and all of our homeless neighbors. As of today, you have helped raise  $230,000! That's just incredible and will have an impact on so many people.
HUGE thanks to Keller Williams Metro Center for being one of our Presenting Partners, for sponsoring the event, supplying over 40 volunteers, and helping plan the event for the past year.
HUGE thanks also to Hilton Crystal City for letting us climb down their building! They rolled out the red carpet for us and made this a wonderful event. They had fun too! So much fun that they are inviting us back next year. Consider this your Save the Date – May 5, 2023, to go Over The Edge next year!
Did you happen to catch us in or on the news? There were articles in The Washington Post, Arlington Connection, Arlington Magazine, and we were on NBC and FOX! Check out all the coverage on our IN The News page here: https://www.newhopehousing.org/about-us/in-the-news/  and click below to see a clip our friends at Helios HR caught for us:
Spotted! Helios team member Samantha Melendez was interviewed by @wusa9 after rappelling down the Crystal City Hilton to benefit @NewHopeHousing #endinghomelessness pic.twitter.com/vB0EkC89Vl

— Helios HR (@HeliosHR) May 7, 2022
We're grateful to all of our partners for making event day so much fun. We hope you can visit their sites and consider booking them for your events.
Pako's Tacos – https://pakosfresh.square.site/ 
Everything Entertainment DJ: https://www.eedj.net/  
Noe Todorovich Photography: http://noetodorovich.com/ 
Bartique: https://www.thebartique.com/  
Hilton Crystal City: https://www.hilton.com/en/hotels/dcanahf-hilton-crystal-city-at-washington-reagan-national-airport/ 
And thanks again to our event team who worked hard all year to make this happen:
Co-Chairs: Christine Sennott and Jan-Michael Sacharko       
Marketing: Nyree Wright       
Festival: Jessica Morris       
Volunteers: Jennifir Birtwhistle       
Recruitment: Elisabeth Pierce Tanev       
Sponsorships: Lianne Wang