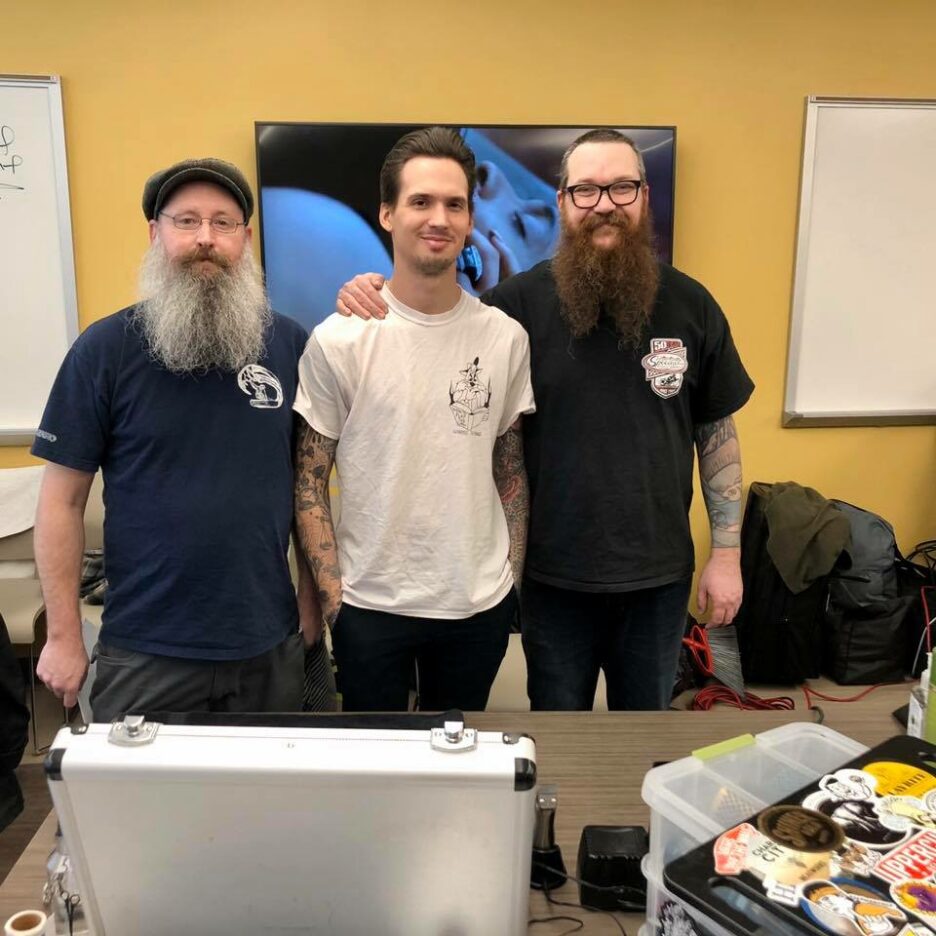 Compassionate, dedicated, and adaptable. These words were repeatedly used to describe the 9 individuals, families, and groups who were honored Saturday, August 29th, by New Hope Housing at our Annual Volunteer Appreciation Breakfast for their service over the past year. This was the first time in 15 years that we did not have an in-person event to recognize volunteers; all volunteers and guests joined by Zoom. During the pandemic, New Hope Housing has suspended onsite volunteer activities but have had hundreds of groups and individuals volunteer virtually through online service and meal preparation. In addition to these awards, several other volunteers were highlighted for special contributions during the pandemic.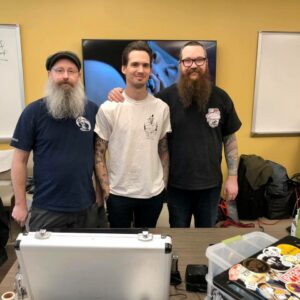 The Neighborhood Barbershop in Falls Church was named Community Champion for their service and for representing the values of New Hope Housing in the community by creating new partnerships and opportunities. For the last 3 years, barbers at this shop have been providing free haircuts to homeless adults at the Bailey's Crossroads Shelter run by NHH and for adults at the A-SPAN shelter in Arlington County. Clients always rave about how they get more than a haircut; that each barber treats them with respect and has a great conversation. The barbers have also worked with NHH outreach workers to help them meet homeless people in the Falls Church area and connect them with services. In 2018 and 2019, The Neighborhood Barbershop hosted 25 hour Cut-A-Thons to support the shelter, raising over $12,000 each year. Everyone at NHH is grateful to them and grateful that they have been able to safely re-open!
Ollie & Ellie were named Outstanding Volunteers and have been the leaders of their families' efforts for volunteer service during the pandemic. Students at St. Stephen's & St. Agnes School and neighbors in Alexandria, Ollie and Ellie have helped prepare meals for shelter and outreach sites over 30 times since they began volunteering in May – a total of 1,000 meals! They also lovingly decorate and write notes on all of the bags to provide a moment of sunshine for guests. Ollie and Ellie have also signed up for service throughout the fall and look forward to being old enough to volunteer onsite at the shelters once they reopen for volunteers. (Per family requests, we are not sharing their last names)
Christine Sennott of Alexandria received the Volunteer of the Year award for her personal service and for leading tremendous service efforts on behalf of Keller Williams MetroCenter for the past two years. With her leadership, the Culture Committee of KW MetroCenter has organized projects for their RED (Renew, Energize, Donate) Day of Service which have included renovations of apartments for formerly homeless people, employment assistance, and cleaning and makeovers of shelters. They also "adopted" two apartments at the new Bailey's Shelter & Supportive Housing (BSSH) facility in October by purchasing and providing household items to make the apartments move-in ready. Christine also got support from friends and businesses to adopt 4 more.
This spring, they were deep into planning service for RED Day and several Keller Williams offices were going to participate before everything had be called off in March. A few weeks later, Christine invited New Hope Housing into a partnership for a new project called Front Yards 2 Front Lines. This volunteer group raised money from agents and friends to purchase meals from struggling local restaurants to donate to frontline workers. Over two months, thousands of meals were purchased for first responders, firefighters, sanitation workers, and more. Hundreds of masks and other supplies were collected and donated too. Toward the end of this project, the group realized there would likely be greater needs than meals before the pandemic is over. They contacted INOVA hospital to determine what these needs might be and then took action. In July, this group presented $15,000 to INOVA hospital to be used to build a needed "negative pressure room" that is ideal for treating COVID-19 patients. They also secured a matching grant from a local foundation to raise that total to $30,000. We are grateful to have been in this partnership to help our community.
 "We miss seeing the faces of our volunteers, but we see the effects of their efforts daily,"shared Pam Michell, executive director of New Hope Housing.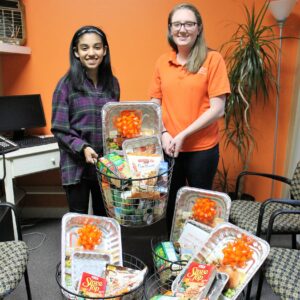 Margaux Van Allen of McLean received the Allie McConnell Youth Service award (named for an outstanding young woman who volunteered for children's programs and passed away several years ago). Margaux began volunteering with New Hope Housing in 2017 with the children's program. She attended the weekly activities at the library, working with the kids on homework, reading, and craft activities. The children loved having someone like Margaux who was close to their age and was much "cooler than the adults." Though NHH no longer has a family program, Margaux continued to serve. She has volunteered at community events, donated Thanksgiving food baskets, and also adopted one of the new apartments at BSSH last fall. To raise funds for this, Margaux encouraged other students at her school to help as well, raising a total of $1,000. Margaux, a friend, and her mom decorated the apartment one evening before residents moved in. Margaux also signed up to serve during the pandemic, making and dropping off 50 bag lunches every Wednesday in July. Margaux truly embodies Allie McConnell's spirit of service.
The Falls Church Episcopal was named an Outstanding Volunteer Group and has been making and delivering hot and delicious dinners for everyone at the Bailey's Shelter on the 2nd Sunday of the month since 2017. The care and attention they put in to creating a great menu every month has been commented on by shelter guests regularly. At the beginning of the pandemic, the church group realized it might not be safe to gather to prepare meals, so they researched local restaurants that were still preparing and delivering meals at affordable rates and found Spin Pollo in Falls Church. Since April, Spin Pollo meals have been a highlight at the shelter. Falls Church Episcopal members have also been preparing bagged meals for new outreach programs and hosting food drives for other local nonprofits.
Stephanie Johnson of Alexandria was named an Outstanding Volunteer for her participation in several projects. Stephanie first served with New Hope Housing through Keller Williams day of service in 2019. She had such a great time meeting staff, interacting with guests, and serving with her team, that she's been involved ever since. Last October, Stephanie adopted one of the units at the Bailey's Shelter & Supportive Housing site! She bought everything for the unit and joined us to decorate before the building opened. She made sure that the resident that moved into the apartment would feel loved and cared for when they moved in. This year, she has been preparing and dropping off meals for our smaller shelter sites, has created an Amazon wish list to encourage friends and family to donate items needed at the shelter, and created several fundraisers on Facebook to encourage more people to donate.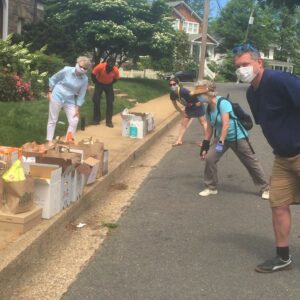 Clarendon Presbyterian in Arlington County was named an Outstanding Volunteer Group for their service at Residential Program Center (RPC) shelter in Arlington County. Prior to New Hope Housing taking over operations of RPC in February 2020, the Clarendon Presbyterian Director of Christian Mission, Ms. Blair Moorhead, had already reached out to NHH to establish a volunteer relationship. They had been working with the prior shelter operators to develop a mentoring program and wanted to make sure it could progress. Though the pandemic caused a shift in focus, the desire to serve by members of the church is clear. They have prepared and delivered meals for guests at RPC and have hosted several donation drives at their church which resulted in over $2,000 worth of supplies given to RPC. Several members of the church have also been trained for virtual service opportunities and will continue to serve this fall.
Fern & James Winbush of Fairfax County were presented with the Jim Lund Lifetime of Service Award (named after a volunteer who has been serving for more than 30 years!). They have been involved with New Hope Housing in dozens of ways over their many years of service. Fern served on the board of directors, they were table captains at Giving Hope breakfasts, and have prepared dinners for the guests at Mondloch House Shelter every fourth Saturday of the month for the last 10 years. They encourage their friends and family to connect, notably encouraging a partnership between New Hope Housing and their church, Bethlehem Baptist Church. During the pandemic, they haven't stopped giving. They donated more than $1,000 worth of needed items from our Amazon wish list.
 "We miss seeing the faces of our volunteers, but we see the effects of their efforts daily," shared Pam Michell, executive director of New Hope Housing. "The past few months have been difficult. The next few years will likely be even harder. But ending homelessness has always been hard work. I'm grateful to know that there are neighbors like you who work side-by-side with us to make sure everyone has a safe and happy home in which to thrive."
For more information on volunteering, please contact Sami at 703-799-2293 x 11 or ssmyth@newhopehousing.org