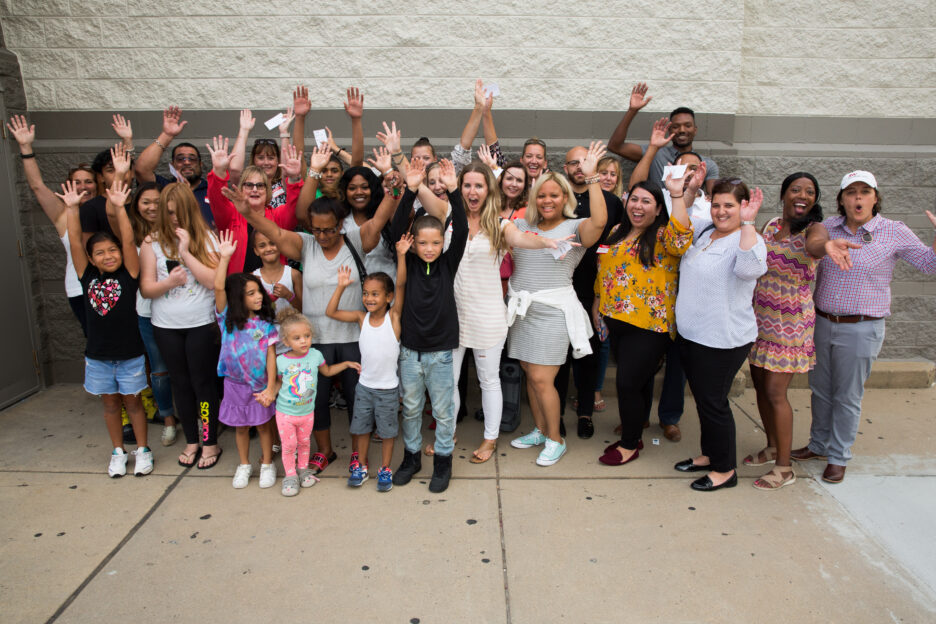 On Wednesday, August 21st, volunteers from Keller Williams MetroCenter took 16 formerly homeless children from New Hope Housing back-to-school shopping at Target. Keller Williams volunteers served as personal shoppers for each child. This is the second year in a row that they have hosted this special shopping event and it was filled with smiles with new friends. Last year's event was so much fun, they just had to do it again.
In July, the Culture Committee of Keller Williams MetroCenter had hosted a bowling event to raise funds for this shopping trip. On that night, they netted over $4,000 to take children shopping. Special thanks to sponsors Universal Title of McLean, McLean Mortgage Corporation, and Super Home Warranty.
All children were residents of New Hope Housing's permanent supportive housing program for families in Fairfax County. Each of their families has experienced homelessness multiple times and has at least one parent with a disability.
"Having the opportunity to spend time with the kids helping them pick the perfect outfit and school necessities is so rewarding. The children are just thrilled that they get to pick their clothes and the agents are touched by the simplest of things that make the kids so happy. Everyone goes home that night with smiles on their faces," said Christine Sennott, chair of the Culture Committee of Keller Williams – Old Town Alexandria who coordinated this event.
Keller Williams Metro Center was recently named Community Champion by New Hope Housing at their annual Volunteer Appreciation Breakfast on August 10th. They received this for representing the values of New Hope Housing in the community and creating new partnerships and opportunities. Beginning with Keller Williams – Old Town Alexandria two years ago, KW members have now partnered twice for their annual RED Day (Renew Energize Donate) of Service in which they renovated three two-bedroom apartments for formerly homeless adults and cleaned homeless shelters. They have organized two fundraisers to take children in New Hope Housing's family programs back-to-school shopping and then volunteered as personal shoppers with the children in their new "Shop With KW" day. Altogether, more than 100 agents and partners have volunteered and raised more than $20,000 for special projects at New Hope.
"We can't stress how important these community gifts are which build self-esteem and community for our children," shared Pam Michell, executive director of New Hope Housing. She added, "New Hope Housing provides the housing and support systems, but community volunteers can really help children and families feel that they belong.
Read more in the Old Town Alexandria Patch: https://patch.com/virginia/oldtownalexandria/s/gtogc/formerly-homeless-kids-benefit-from-back-to-school-shopping-event