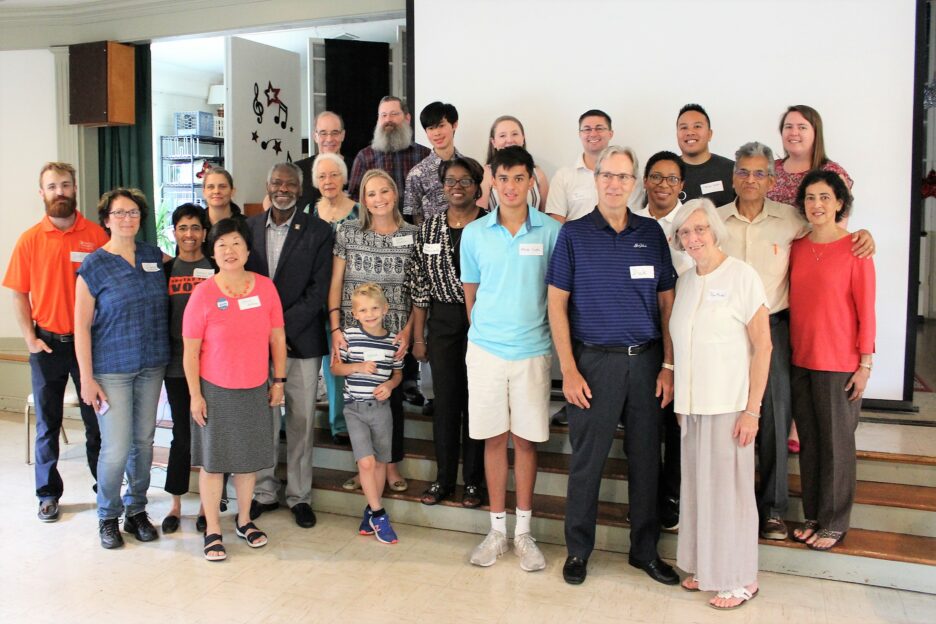 Haircuts. Homes. Meals. IDs. Voter registration.
On Saturday, August 10th, New Hope Housing recognized 6 individual and 5 group volunteers for providing all of these things and more to homeless individuals and families in Northern Virginia at our annual Volunteer Appreciation Breakfast held at First Christian Church in Falls Church.
Keller Williams Metro Center was named Community Champion for representing the values of New Hope Housing in the community and creating new partnerships and opportunities. Beginning with Keller Williams – Old Town Alexandria two years ago, KW members have now partnered twice for their annual RED Day (Renew Energize Donate) of Service in which they renovated three two-bedroom apartments for formerly homeless adults and cleaned homeless shelters. They have organized two fundraisers to take children in our family programs back-to-school shopping and then volunteered as personal shoppers with the children in their "Shop With KW" day. Altogether, more than 100 agents and partners have volunteered and raised more than $20,000 for special projects at New Hope. KW Old Town Alexandria's CEO, Kate Papkin, accepted the award for Keller Williams Metro Center.
Paul "Spud" Willis is a barber at The Neighborhood Barbershop in Falls Church who has recruited coworkers and friends to give free haircuts and shaves to guests at the Bailey's Crossroads Community Shelter for more than two years. Spud is known for his skill and big smile as he gives guests the best cut of their lives. His outreach also led The Neighborhood Barbershop to host a 25-hour Cut-A-Thon last November that raised over $12,000 for the shelter.
Ravi & Chanda Athale received the Volunteer of the Year award. For many years, they have helped fund and operate a medical clinic in India every year but began looking for ways to volunteer locally. They first visited the Bailey's Shelter in March 2018 and quickly began volunteering at nearly all of New Hope Housing's programs. Since that meeting, Ravi and Chanda have taught life skills classes and led workshops on medical topics. Ravi mentors a resident at a group home, and they both join us at fundraising events, bringing friends and family to learn about the organization, and they involve their own organization, REACH IN US. (www.reachinus.org)
Their main activity is working weekly with the children's program at Sherwood Hall Library every Tuesday evening. Chavon Bell, New Hope Housing Family Case Manager shared "The time and dedication that Ravi and Chanda have devoted to our children's program is beyond incredible. They bring innovative ideas to keep the children engaged and excited about learning."
Susan Kuhbach has volunteered weekly at the Eleanor U. Kennedy Shelter for more than two years. Susan works with the case management team, helping to file guest documents, and keep guest records easily accessible and organized for staff. Susan has also volunteered in the shelter kitchen – making sure guests are served with a smile, and with the children's after-school reading program.
Bruce Horovitz has been volunteering every Wednesday in the kitchen at the Bailey's Crossroads Community Shelter for the past year. He helps prepare and serve meals throughout his service day. Kitchen staff shared that "he has such a big heart and we're extremely grateful that he chooses to share it with us!"
Les Gemmes Inc. – Northern Virginia Chapter is the local chapter of this service organization founded by four young black college women in Norfolk, Virginia in 1955. They can always be counted on to volunteer for special events or host a special donation drive to help shelter guests. In the past four years, they have joined us at Giving Hope breakfasts, spring events, and annual Black History Month Celebrations. In addition to being wonderful event volunteers and guests, they host special collection drives for needs. They have collected winter jackets, back-to-school supplies, and household goods. One of the best things about Les Gemmes is that they ask what is needed by our residents before hosting a drive. They want to give residents exactly what they need. It is so helpful that they do this each and every time!
The mission of the national Spread the Vote organization is to help people have what they need to vote, which usually starts with an ID. Two local chapters, Springfield/Alexandria and Falls Church/Arlington, have been doing that and more for shelter guests and street outreach clients. Danica Hawkins, outreach case manager for Bailey's Shelter, shared that volunteers from Spread the Vote "fights to solve the puzzles" of how people without ID can legally obtain birth certificates, social security cards, and more so that they can get jobs and housing. Clients regularly speak of the volunteers' kindness and patience with them at the DMV. Because of their efforts, a large number of homeless and formerly homeless people "are able to participate in our democracy through the power of voting, which is truly one of the most empowering things."
Indomitable Women 4 Agape Life (IW4AL) prepares and serves dinner at the Kennedy Shelter multiple times a year. When they served, they also bring volunteers that help guests with employment, provide clothing, free HIV testing, and so much more. They do all of this with a smile and great care and compassion for guests. IW4AL also joined us at our annual Black History Month Celebration. Volunteers pitched in for the program – performing a mime, singing, and reciting poetry. The event is a celebration, and IW4AL made sure that everyone in attendance was celebrating!
The Potomac School of McLean received the Allie McConnell Youth Service award (named for an outstanding young woman who volunteered for children's programs but passed away several years ago). Students invited New Hope staff to come speak to the 10th grade class about homelessness and ways that each student could be active participant in ending homelessness. Students then volunteered at two group homes for homeless adults for their Day of Service, helping to landscape and clean. They then went back to school and created Welcome Home Baskets with cleaning supplies that they donated to shelter guests who are moving to permanent housing. They have now donated more than 70 cleaning baskets!
Dick Alderson was presented with the Jim Lund Lifetime of Service Award. He began volunteering in 2000 as a board member for New Hope Housing. As a lifelong resident of the Mount Vernon area, Dick was in a unique position to offer insights into the changes the area has seen and to critically think about the future of the organization's role in the community. As Board President in 2007, Dick's strong leadership and strategic thinking skills were vital as New Hope began its first strategic planning process in years. After leaving the Board of Directors in 2010, Dick was elected to the Board of Trustees where he was a member of the Strategic Planning Task Force during the organization's expansion into Arlington County and the City of Alexandria.
After years of serving New Hope, Dick sought out another organization to serve and became a board member at Good Shepherd Housing. He did not forget about New Hope Housing, rather he and his family continue to "adopt" families at the holidays, purchasing gifts on their wish lists and helping provide household items to families as they move into housing. On a notable occasion, Dick's family took in a family over the holidays that had lost everything in a fire. Once they had new housing, he made sure they would have all the new household goods needed to make their new place a home. Dick has previously been nominated for and received the Volunteer Fairfax Lifetime Volunteer Award in 2018 for his service to New Hope Housing and Good Shepherd Housing.
 "We're grateful for the contributions of so many people that ensure our clients get to be part of their community," shared Pam Michell, executive director of New Hope Housing. She added "One of my favorite quotes about volunteering is something that all of our recipients understand: 'Too often we underestimate the power of a touch, a smile, a kind word, a listening ear, an honest compliment, or the smallest act of caring, all of which have the potential to turn a life around.'"
Click here for photos from Volunteer Appreciation