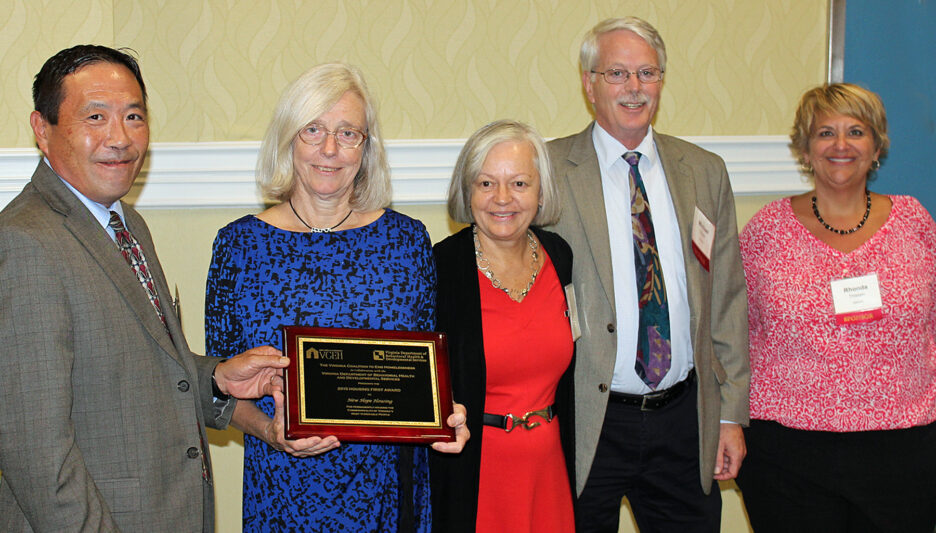 On August 26, I accepted the "Housing First" award from the Virginia Coalition to End Homelessness (VCEH) on behalf of New Hope Housing at the "Housing Virginia's Most Vulnerable" conference in Richmond, Virginia. This award was created last year by VCEH to recognize a "Virginia housing/homelessness assistance provider who has demonstrated a strong commitment to the housing first approach to ending homelessness through successful implementation of best practice programs." New Hope Housing was nominated for this award by our colleague, Shannon Steene, Executive Director of Carpenter's Shelter in Alexandria, formerly ED of Good Shepherd Housing and Family Services.
I was honored to accept this award on behalf of you, our dedicated staff, our board, and the residents of New Hope Housing. The success of New Hope Housing's housing first programs stems from all of you who work day in and day out to implement our philosophy of welcoming all, even those persons unwelcome elsewhere, recognizing that each resident is an individual with individual needs and dreams, and that one type of housing does not meet the needs of all homeless persons. This work is both hard and rewarding, but success happens because we believe that like the flying pig in our office, we must continue to aspire to heaven although our equipment is meager.
"The Virginia Coalition to End Homelessness was very pleased that New Hope Housing received one of two 2015 Housing First Awards as they are one of the premier organizations in the State to use best practice solutions to end homelessness in their area," shared Alice Tousignant, Executive Director of VCEH.
New Hope Housing was recognized with this award for our long history of providing Housing First services for homeless people in their community. As you know, New Hope Housing operates several different Permanent Supportive Housing programs under the housing first guidelines, serving 81 single adults and 15 families. These include three group homes, a building with 20 efficiency apartments, and many rented scattered site apartments.
The Keynote Speaker of the conference was Dr. Sam Tsemberis, founder of Pathways to Housing in New York, and often called the "Father of Housing First" for his development of this model. I first heard Dr. Tsemberis speak at a conference in 2006 when we had just a small Housing First program. He inspired me to try to increase New Hope Housing's investment in supportive housing programs. It was wonderful to meet him and thank him for the inspiration as these programs help so many people now.
Also awarded at the conference was the City of Charlottesville for making significant contributions to the homelessness system of care and ForKids of Hampton Roads for their advocacy for their clients and the greater community.
Come by Admin and see our newest award!  Thanks to each of you for working so hard to meet the needs of some of the most vulnerable and challenging residents in our community.  New Hope Housing wins awards because of your work.
Sincerely,
Pamela L. Michell